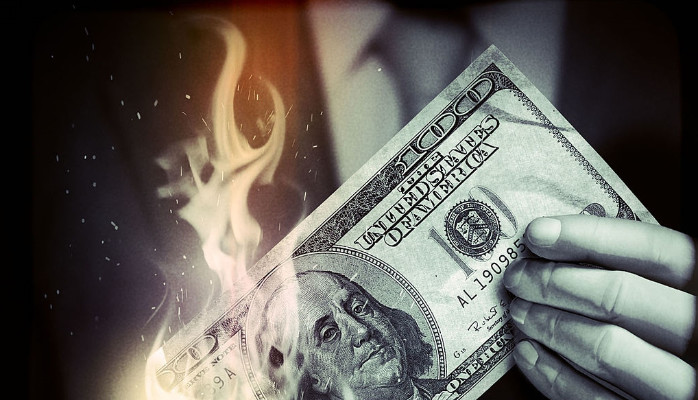 As has been pointed out in previous posts, grifters are seizing the opportunity to dupe, uh, low-information voters out of their hard earned cash. These grifters know all they have to do is continue baseless political attacks on perceived 'liberal' Democrats, or more often, President Joe Biden, and the money rolls through the door. A perfect example reached my inbox yesterday in a message from The Daily Caller (I don't provide links to deceitful blogs/websites, so if you're inclined to seek further information about The Daily Caller, you're on your own).
The Daily Caller's email reads as follows:
Urgent Message:If you're a U.S. Citizen with 25k or more in the Bank, IRA, or 401(k), please read carefully.
Biden's history of presidential indecision and failure has prompted him to make aggressive partisan moves to gain favor with America's left-leaning constituents.

Biden has made it clear that he's planning on raising income taxes, estate taxes (aka, death tax), capital gains taxes, and corporate taxes.

What does this all mean? To put it bluntly…

Taxation is a coercive (yet legal) seizure of private wealth. And Biden is looking to increase the government's powers to claim more of it!

This will take place in addition to the more subtle and "indirect" seizure of wealth via inflation; a "hidden tax" on your income.

Higher taxation amid rising inflation is a financially dangerous prospect.

And all Americans can agree on this, as no citizen will be spared the pain of losing income and wealth to inflation or taxation.

Those who are approaching retirement will be the hardest hit.

If you don't prepare for this now, a sizable chunk of your retirement savings may end up in the government's coffers.

But there are a few steps you can take to prevent this from happening to you.

Thousands of concerned Americans are learning how to protect their retirement savings from the negative financial impact of Biden's policies by reading our 2022 Information Kit,

The steps outlined in the book are simple to understand, easy to implement, and 100% effective.
Is there some proposal President Biden has offered to target retirement savings of American citizens? Is any of this true, and somehow know one knows about it except The Daily Caller? No, and hell no!
A link (removed) from the message takes you to the website of The GSI Exchange of Palm Beach. According to their website, the GSI Exchange "is a private distributor of Gold & Silver coins from the U.S. Mint and is not affiliated with the U.S. Government. " The website further offers, "GSI Exchange is a BBB, A plus rated, leading national coin and precious metals company that continues to be highly praised for Low Prices on superb quality products via the direct sale of physical Gold and Silver coins or bars.
Does that sound like an organization fighting to protect you from policies of the federal government, or someone else trying to separate you from your money? No! They're just betting you'll trust them because they attacked the politicians you personally dislike and hopefully trust them with some of your hard-earned money. They insist they are a Better Business Bureau A-plus rated company, so they must be trustworthy, right?
Uh, not so much!
In 2021, The Texas State Securities Board (TSSB) and the Alabama Securities Commission (ASC) issued cease and desist orders against TRUE BULLION LLC DBA GSI EXCHANGE, directing it to shut down illegal operations in Alabama and Texas.
The website of the Texas State Securities Board includes the following:
The Texas and Alabama orders accuse GSI Exchange of engaging in an illegal advisory scheme involving over $32 million. The scam involves 450 investors many of whom are senior citizens. GSI Exchange allegedly told investors the holdings in their retirement portfolios were high risk and they may lose their assets. GSI Exchange is accused of encouraging these investors to liquidate their securities portfolios and use the proceeds to purchase gold and silver coins to the benefit of GSI through high commissions.

Texas State Securities Board
So, the Daily Caller, in the interest of raking in money from a dishonest sponsor, sends out a false message to its readers which very likely will lead to some of their subscribers losing money to GSI Exchange, their co-grifters.
I know my conservative friends don't want to hear it, but it pays (and saves) to be more discerning when it comes to facts and finances. Be careful.